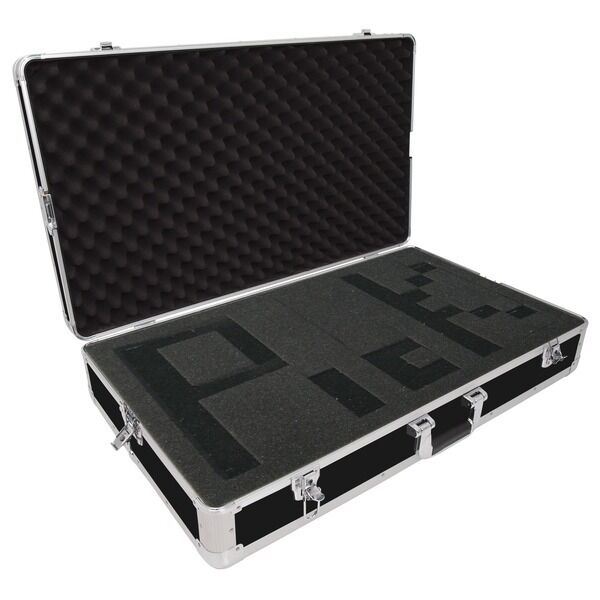 Gorilla GC-LDJC Large DJ Controller Pick & Fit Case
Sale price
£99.95
Regular price
£99.95
Vat included.
Free UK Delivery - Order before 4pm for Next Working Day delivery.
Gorilla GC-LDJC Large DJ Controller Pick & Fit Case
Product description
Shipping & Returns
Lifetime Warranty
Gorilla GC-LDJC large size universal DJ Controller flight case features 'pick & fit' foam allowing you to tailor-make the case to fit your controller. This high quality case also features a tough black diamond finish, aluminium edges and ball corners, lockable catch and a rubber coated handle.
Please note that for some DJ Controllers, there are controls on the front which will not be accessible if wanting to use the controller whilst inside the Pick & Fit foam making this case ideal for storage/protection.
Will fit the following large DJ controllers:
Pioneer XDJ-RX
Pioneer DDJ-SX
Pioneer XDJ Aero
Pioneer DDJ-T1
Pioneer DDJ-S1
Rane One
Numark N4
Numark IDJ Pro
and other similar sized controllers.
Specifications:
Prostyle custom storage for large controllers, keyboards & mixers
Hi-density custom pick foam: 79 x 46 x 11cm
Case: 82 x 48 x 19cm
Black diamond finish
Rounded corners
Prostyle finish
Lockable
Lighter weight than traditional flight cases
Rubber handle
Free UK Delivery
- Order before 4pm for Next Working Day UK delivery.

30-Day Return Policy
- We have a 30-day return policy, which means you have 30 days after receiving your item to request a return.
Lifetime Warranty
Enjoy complete peace of mind as Gorilla DJ offer a lifetime warranty with every flight carry case purchased. This warranty covers any part of the product which may incur a manufacturers defect* within the total time of your ownership!
Simply contact the retailer where purchased and they will offer a replacement** or free user replaceable part for your stand (proof of purchase may be required).
​*Manufacturers defect meaning: A part of or a complete case that has a fault or defect due to the manufacturing process. Please note that the Gorilla Lifetime Warranty does not cover damage/faults due to excessive wear and tear or misuse however your retailer will be able to offer the parts needed but with a charge.
​**Free replacements or parts will be at the retailers discretion and the item may need to be inspected or images provided before replacements/parts are given. 
​Please note: A postage charge will apply when parts/products are issued under warranty after 12 months of the purchase date.