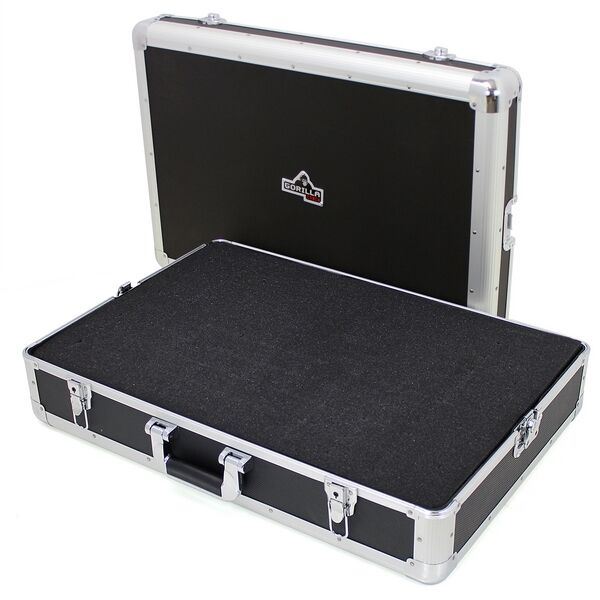 Gorilla Medium DJ Controller Pick & Fit Case
Sale price
£84.95
Regular price
£84.95
Vat included.
Free UK Delivery - Order before 4pm for Next Working Day delivery.
Gorilla Medium DJ Controller Pick & Fit Case
Product description
Shipping & Returns
Lifetime Warranty
The Gorilla GC-MDJC medium size universal DJ Controller flight case features 'pick & fit' foam allowing you to tailor-make the case to fit your controller. This high quality case also features a tough black diamond finish, aluminium edges and ball corners, lockable catch and a rubber coated handle.
 The Gorilla GC-MDJC case will fit the following controllers:
Pioneer DJ DDJ-400
Pioneer DJ DDJ-SB3
Pioneer DJ DDJ-SR2
Numark Mixtrack Pro 3
Numark Mixtrack Platinum
Numark NV II
Numark NS6 MK2
Reloop Beatmix 2 MKII
Reloop Beatmix 4 MK2
Reloop Beatpad 2
Native Instruments Traktor Kontrol S2 MK3
Native Instruments Traktor Kontrol S4 MK3
Native Instruments Traktor Kontrol S8
Hercules DJ Control Inpulse 300
Roland DJ-202
Roland DJ-505
Roland DJ-707M
Denon DJ MC4000
Denon DJ Prime GO
And Many More Similar Sized Controllers
Features:
Custom Storage For Medium Size Controllers
High Density Protective Foam Padding
Strong Butterfly Clips
Black Diamond Prostyle Finish
Strong Rounded Corners
Robust Rubber Handle
Specification:
Colour: Black
Internal Dimensions: (W) 66 x (D) 44 x (H) 11cm
Removable Foam Area Dimensions: (W) 58 x (D) 39 x (H) 9cm
External Dimensions: (W) 68 x (D) 47 x (H) 19cm
Free UK Delivery
- Order before 4pm for Next Working Day UK delivery.

30-Day Return Policy
- We have a 30-day return policy, which means you have 30 days after receiving your item to request a return.
Lifetime Warranty
Enjoy complete peace of mind as Gorilla DJ offer a lifetime warranty with every flight carry case purchased. This warranty covers any part of the product which may incur a manufacturers defect* within the total time of your ownership!
Simply contact the retailer where purchased and they will offer a replacement** or free user replaceable part for your stand (proof of purchase may be required).
​*Manufacturers defect meaning: A part of or a complete case that has a fault or defect due to the manufacturing process. Please note that the Gorilla Lifetime Warranty does not cover damage/faults due to excessive wear and tear or misuse however your retailer will be able to offer the parts needed but with a charge.
​**Free replacements or parts will be at the retailers discretion and the item may need to be inspected or images provided before replacements/parts are given. 
​Please note: A postage charge will apply when parts/products are issued under warranty after 12 months of the purchase date.